Piše: Moja Dolenjska
Vladni urad za oskrbo in integracijo migrantov je občinam od januarja 2022 do decembra 2022 povrnil 24.064 evrov stroškov za odstranitev odpadkov, ki so bili posledica nezakonitih prehodov državne meje. Zahtevke je uradu posredovalo osem občin, za migranti so odstranili 13,69 tone odpadkov, uradu so poslali 17 zahtevkov. Med občinami so vse tri belokranjske, kjer so, presenetljivo, največ odpadkov odstranili v Občini Semič.
V Občini Semič so za migranti odstranili skoraj 2 toni odpadkov, za to jim je vladni urad povrnil 2543 evrov. Gre za presenetljiv podatek, saj o migrantih na območju te občine ni nihče nič poročal.
V Občini Črnomelj so odstranili 480 kg odpadkov, za kar so prejeli 1152 evrov. V Občini Metlika pa so odstranili 350 kg odpadkov in za to prejeli 405 evrov.
Z območja Kočevsko-ribniškega področja vladnemu uradu niso poslali nobenega zahtevka.
Največ odpadkov so sicer odstranili v Občini Ilirska Bistrica, skoraj 8 ton, država jim je za to povrnila 17.239 evrov.
Ostale občine so še Mestna občina Koper (1,6 tone), Kostanjevica na Krki (pol tone), Središče ob Dravi (dobre pol tone odpadkov) in Brežice (slabo tono odpadkov).
Podatki po občinah so naslednji: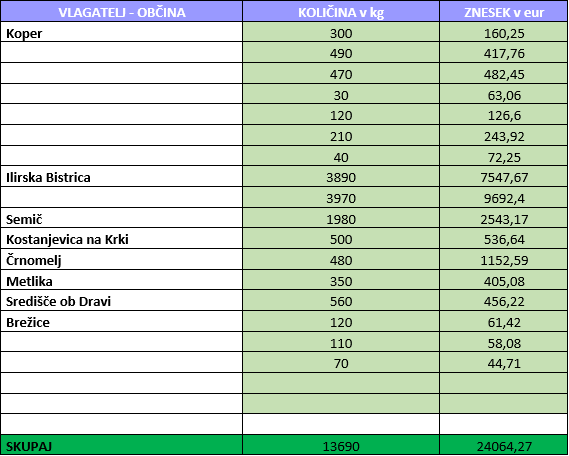 Policija je lani prijela 32.024 migrantov, kar je bilo trikrat več kot leta 2021. Kar 31.447 jih je ob prijetju izrazilo namero za podajo prošnje za azil, kar je bilo 5,5-krat več kot v letu 2021.
Že iz podatkov o pospravljenih odpadkih za migranti pa je razvidno, da se je način prihoda migrantov, ki so nezakonito prestopili državno mejo, v času zdajšnje vlade precej spremenil. Ti se večinoma ne skrivajo več, pač pa se predajo policiji, saj jih je Robert Golob že spomladi s tem, ko je dejal, da so meje za njih odprte, povabil v državo in EU. Nato so julija 2022 začeli še z odstranjevanjem ograje.
Spremembo vodenja migracijske politike potrjujejo tudi podatki o odstranjenih odpadkih v letu 2021. Ob trikrat manjšem številu migrantov je bilo v državi odstranjenih dobrih 26 ton odpadkov, za kar je urad občinam povrnil skoraj 43.500 evrov. Zahtevke je poslalo 12 občin, med njimi z območja Jugovzhodne Slovenije Novo mesto, Šentjernej, Črnomelj, Kostel, Loški Potok, Ribnica in Kočevje.