Piše: Jo. Bi.
»Slovenski znanstveni inštituti podpirajo neodvisno javno RTV Slovenija. 22 uglednih institucij in znanstvenikov izraža skrb …« je na družbenem omrežju Twitter zapisal novinar Vala 202 Luka Hvalc.
Koordinacija samostojnih raziskovalnih inštitutov Slovenije (KOsRIS) je uredništvom informativnega programa RTV Slovenija že večkrat izrazila podporo. Tokrat jih motijo posegi v programsko produkcijski načrt in ukinjanje nekaterih oddaj. Očitno tudi besede novega direktorja TV Slovenije Uroša Urbanije, ki je napovedal, da bo nacionalna televizija svetovnonazorsko uravnotežena, kot to veleva zakon. »Tudi časi, ko so imeli v tej hiši pravico nastopati samo nekateri, drugi pa ne, so ravno tako za nami,« je v pismu zaposlenim napisal Urbanija. 
Koordinacija inštitutov se je »proslavila« pomladi, ko je protestirala proti ustanavljanja novih visokošolskih in raziskovalnih zavodov desnosredinske vlade. Kar je zanimivo, ko po drugi strani menijo, da država premalo stori za izobraževanje in znanost in da za znanstveno delo nameni premalo denarja. No, omenjenih 22 »samostojnih raziskovalnih inštitutov« je od leta 2003 (do koder seže ERAR) neposredno prejelo 2,4 milijarde evrov davkoplačevalskega denarja (tabela spodaj). V ta znesek niso všteta sredstva, ki so jih posredno prejeli prek povezanih ustanov in organizacij.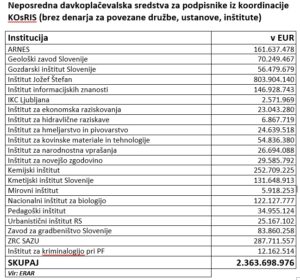 Če razmišljamo tako populistično kot KOsRIS, izračun pokaže, da je 22 znanstvenih pravnih subjektov v zadnjih devetnajstih letih in pol vsak dan v povprečju prejelo 332.120 evrov davkoplačevalskega denarja oziroma vsako uro 13.838 evrov. To pomeni, da bi lahko vsako uro »lačnim šolarjem« razdelili skoraj 50.000 žemljic. Ali pa bi vsako leto vsem zavezancem plačali RTV prispevek in jih tako razbremenili prisilnega plačevanja levo usmerjenega javnega zavoda.
In naprej. Vsako leto inštituti v okviru KOsRIS prejmejo v povprečju 121,2 milijona evrov. S tem denarjem bi lahko vsem osnovnošolcem in dijakom (okoli 265.000 jih je vsako leto vpisanih v osnovne in srednje šole) omogočili enotedenske počitnice. Populistično lahko rečemo, da tovarišija z Gregorjem Anderluhom na čelu otrokom in mladostnikom odžira hrano in brezskrbne počitnice.