Piše: Sara Kovač (Nova24tv.si)
Včeraj je Rusija poročala o napadih na dveh vojaških letališčih v Rusiji, danes pa naj bi se zgodil nov napad. Na vzletni stezi v regiji Rjazan južno od Moskve je včeraj eksplodiral tovornjak za prevoz goriva. Dron pa naj bi zadel letališče v regiji Saratov. Sprva so poročali o "neidentificiranem" dronu, kasneje pa se je izkazalo, da je rusko letalsko bazo zadel predelan dron Tupoljev Tu-141 Striž.
Rusko obrambno ministrstvo je sporočilo, da je "režim v Kijevu poskušal z brezpilotnimi letali sovjetske izdelave" napasti letališči v regiji Rjazan in Saratov, ob tem pa naj bi bili ubiti vojaki. Na letališču v Rjazanu naj bi bilo poškodovano eno letalo, na letališču Engels-2 pri Saratovu pa dve,  šlo pa naj bi za strateška bombnika dolgega dosega T-95. Te bombnike Rusija uporablja za raketne napade na Ukrajino, kjer je bila v preteklih tednih v raketiranju uničena kritična infrastruktura, zaradi česar so ostali brez vode in elektrike mnogi Ukrajinci.
Kritike ruske zračne obrambe
"Če je Ukrajina res zadela rusko letalsko bazo Engels s predelanim dronom Striž Tu-141, je to za rusko zračno obrambo hujša katastrofa kot udarec z novim ukrajinskim dronom. Strizh je bil razvit v sedemdesetih letih 20. stoletja kot tarča za vaje obrambnih sil, ne pa za preboj zračne obrambe," pa je komentiral poznavalec Sergej Sumlenny. In dodal, da ob napadu ruske protiletalske obrambe ni bilo. "Pravzaprav je bil Tu-141 zasnovan kot izvidniški dron posebej za preboj v sovražnikove fronte pri visokih podzvočnih hitrostih (sprva je bil cilj, da bi bil celo transoničen) na poti v in iz nje (z nalogo varno prinesti nazaj kamero)."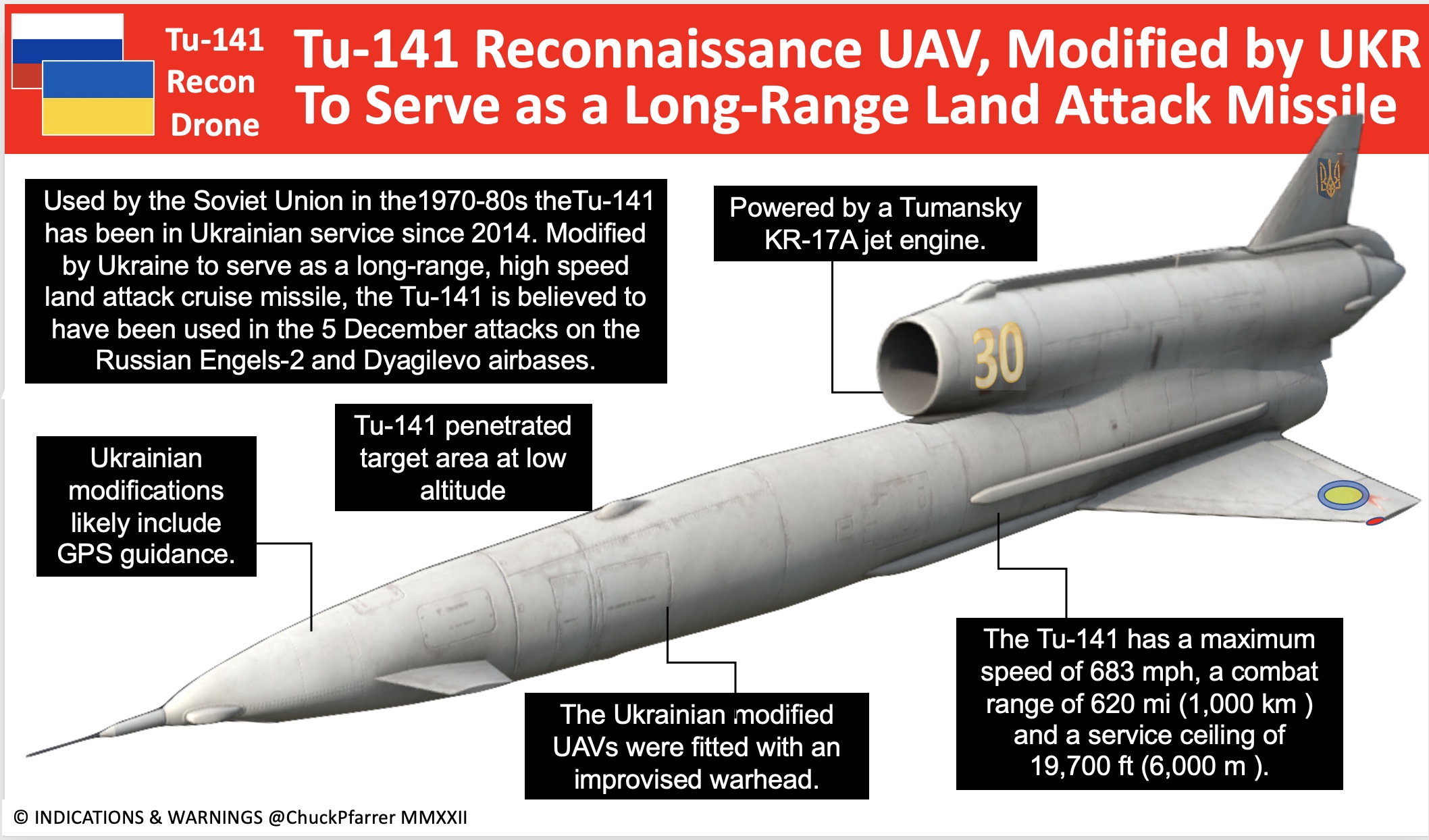 To so enaki droni, kot so aprila strmoglavili na Hrvaško. Poročali smo namreč, da je vojaško letalo sovjetske izdelave TU-141 bilo izstreljeno iz Ukrajine, letelo pa je prek romunskega in madžarskega zračnega prostora. Dron naj bi imel namesto kamere nameščeno bombo s kar 40 kilogrami streliva.
"Naredi sam" projekt
Pravzaprav je to "DIY projekt", saj naj bi v Ukrajini drone iz sovjetskega obdobja za napad na letalski bazi v Rusiji predelali. Opremili naj bi jih s posodobljenimi navigacijskimi sistemi GPS in improviziranimi bojnimi glavami, zaradi česar so preleteli 965 kilometrov in zadeli cilje.