Piše: Jože Jan
Dvakratni zmagovalec Tour de France je v intervjuju za Cyclingnews govoril o svoji odlični sezoni 2021, o sumu na doping in o pričakovanjih ekipe UAE Emirates za leto 2022.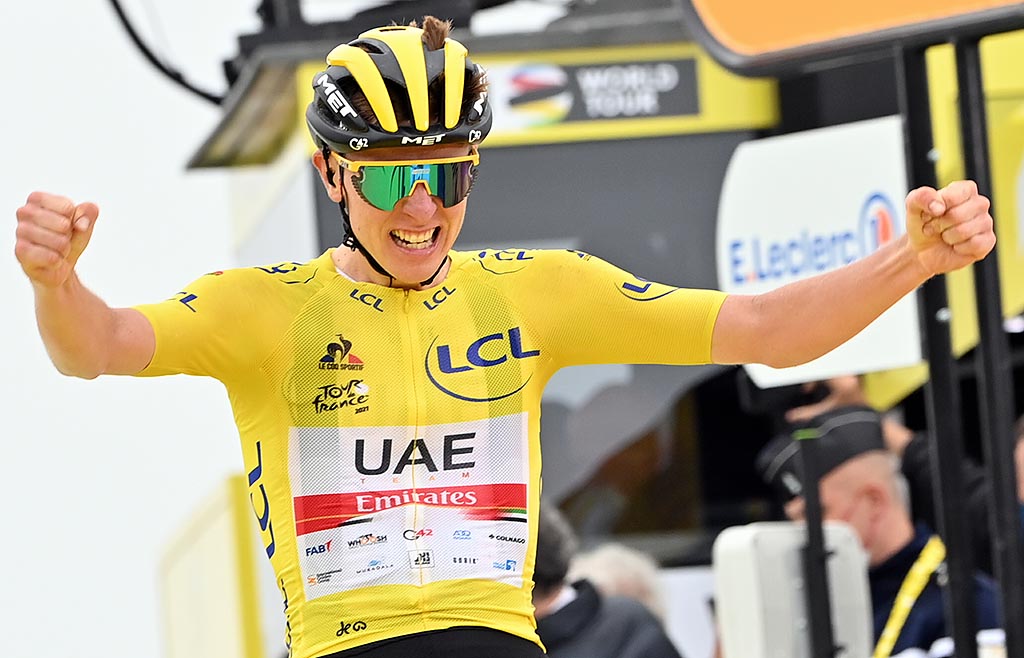 Slovenski kolesar Tadej Pogačar, član ekipe UAE Team Emirates, je v intervjuju dejal, da čeprav je bilo leto 2021 njegovo najboljše leto, »ne pomeni, da je boljši kolesar od vseh drugih«. »Bila je dolga sezona, a vedno sem užival«, je pojasnil Pogačar, ki je letos izenačil rekord Eddyja Merckxa in Fausta Coppija.
»Vedno je veliko pritiska, a to mi uspe spremeniti v nekaj pozitivnega. Uporabljam pritisk, da ostanem motiviran«, je povedal kolesar, ki pri 23 letih že šteje dve zmagi ene najvažnejših svetovnih tekem: Tour de France.
Pogačar je spregovoril tudi o sumih dopinga na njegovi odlični sezoni 2021, ki jo analitiki označujejo kot »nezemeljsko«. »Veliko treniramo, marsikaj odložimo in se žrtvujemo, da bi bili na najvišji ravni, zato sumi bolijo«, je pojasnil.
Pogačar, rojen v Klancu (Komenda), je spregovoril o tem, kaj ga čaka na sezoni 2022. »Skoraj gotovo je, da se bom vrnil na Tour in iskal tretjo zmago, vendar res ne čutim pritiska, da bi znova zmagal«, je dejal. Naslednje leto bo slovenski kolesar lahko računal na pomoč Georgea Benneta, Pascala Ackermana in Marca Solerja, ki se bodo kot ključni kolesarji in jedro ekipe pridružili Brandonu McNultyju, Rafi Majki, Marcu Hirschiju, Davideju Formolu in Mikkelu Bjergu. »UAE Team Emirates ni tako stara ekipa v primerjavi z drugimi odličnimi ekipami, zato mislim, da se lahko veliko stvari naučimo in izboljšamo. Navdušen sem, ker imamo super dobre kolesarje v ekipi«, je dejal.
»Smo na pravi poti, dvakrat smo zmagali Tour de France, to kaže, česa smo zmožni in mislim, da lahko upamo, da bomo še naprej med najboljšimi. Sezona 2021 se je ravnokar končala, vendar sem že navdušen nad tem, kar bo prineslo leto 2022«, je zaključil. 
Vir: AS, Španija