Piše: Sara Bertoncelj (Nova24tv)
"V izogib morebitnemu, a zelo verjetnemu, ponavljanju napadov na poslance, zahtevam takojšnje ustrezno ukrepanje, da bomo lahko poslanci varno opravljali svoje delo," je zapisal vodja poslanske skupine NSi Jožef Horvat. V sredo so mu namreč agresivneži zaprli pot, ga obkolili in grozili, da bo plačal, ob tem pa so ga tudi popljuvali. Policisti, ki se se sicer nahajali v bližini, očitno niso posredovali. Kot je opaziti, se različne oblike nasilja pojavljajo zgolj pri napadih na politike koalicije, opravka imamo torej z nevarnim levičarskim ekstremizmom, ki bi ga morala policija obravnavati z vso resnostjo.
Vodja poslanske skupine NSi Jožef Horvat je v sredo v večernih urah zapuščal poslopje Državnega zbora in opazil, da je ob poslopju kar nekaj policistov. Da bi se izognil protestnikom z brutalnim zasramovanjem in grožnjami, se je do svojega stanovanja namenil po drugi poti. Na prehodu čez cesto so ga že pričakali agresivneži, ki so vpili nanj in ga spraševali, kako je glasoval. Odgovoril je, da tako kot vedno – torej po svoji vesti. Ko je dobil pljunek v obraz se je Horvat ustavil, nato pa so ga spustili naprej, je zapisal Horvat v opisu nasilnega dogodka, ki ga je objavil novinar Bojan Požar. Glede na to, da naj bi bilo v bližini precej policistov, je sicer nenavadno, da ti niso posredovali.
Menda pa Horvat ni edini poslanec, ki smo mu grozili. Zato je predsednik Državnega zbora Igor Zorčič sklical delovni posvet, ki bo potekal danes. Posvet bo za javnost sicer zaprt, nanj pa so, poleg vodij poslanskih skupin, poslancev narodne skupnosti in podpredsednikov Državnega zbora, vabljeni tudi generalna sekretarka Državnega zbora, namestnica generalne sekretarke, vodja zakonodajno-pravne službe, vodja kabineta predsednika Državnega zbora ter vodja službe za odnose z javnostmi.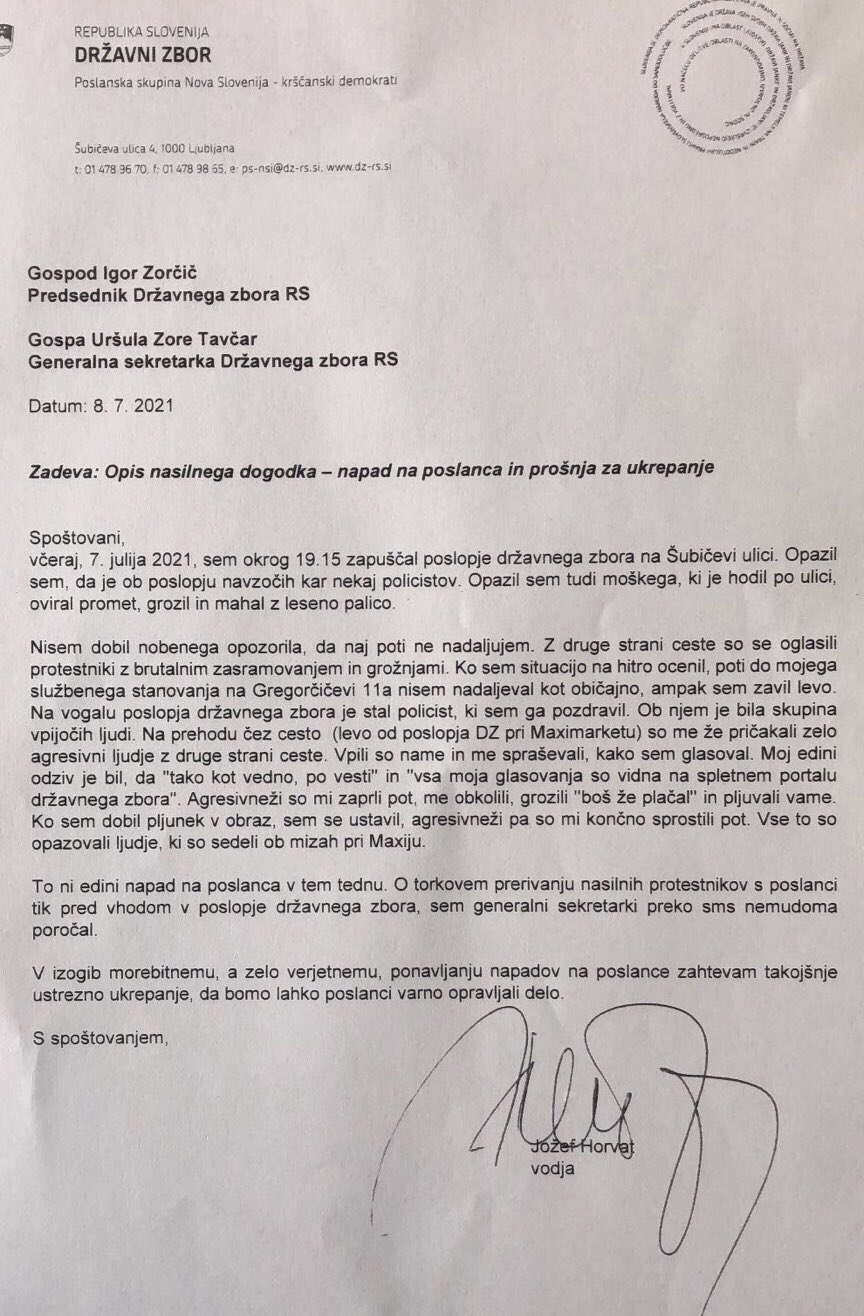 "Kaj z našo policijo? A sploh še obstaja? Kako lahko to visi na Facebooku? To je treba policijo prijaviti zaradi pasivnega sodelovanja s kriminalci," pa je zapisal uporabnik Twitterja. V Facebook skupini Maske dol se je namreč znašel poziv k akciji "Pljuni in se nasmehni" – v obraz naj bi tako pljuvali politikom, novinarjem, stroki, policajem, županom itd. Na istem mestu je tudi zapisano, da je bilo več poslancev dobesedno popljuvanih pred parlamentom – kar lahko potrdijo tudi policaji. S pljuvanjem poslancev se je na posnetku pohvalila tudi Anica Bidar, ki je pojasnila, da so na tak način protestirali proti sprejetju zakona o nalezljivih boleznih. Gre torej ponovno za dvojna merila, si levičarji resnično lahko privoščijo prav vse?