Piše: Sara Kovač (Nova24tv.si)
Na parlamentarnih volitvah v Italiji je glede na izide vzporednih volitev, ki jih objavljajo italijanski mediji, zmagal desn-sredinski pol, v katerem so združene stranke Bratje Italije, desna Liga in desnosredinska stranka Naprej Italija. Največ glasov so dobili Bratje Italije, Giorgia Meloni pa bo najverjetnejša nova predsednica vlade.
Ob 23. uri so se zaprla italijanska volišča, rezultati vzporednih volitev v Italiji kažejo na prepričljivo zmago desne sredine (med 41 in 45 odstotki), združena levica pa je pristala na drugem mestu (med 25 in 29 odstotki), sicer daleč za zmagovalko. Gibanje petih zvezd je po podatkih na tretjem mestu.
Kot kaže bo nova predsednica vlade predsednica stranke Bratje Italije Giorgia Meloni, ki jo levi mediji neupravičeno uvrščajo med postfašiste. S tem bo postala prva predsednica vlade v italijanski zgodovini.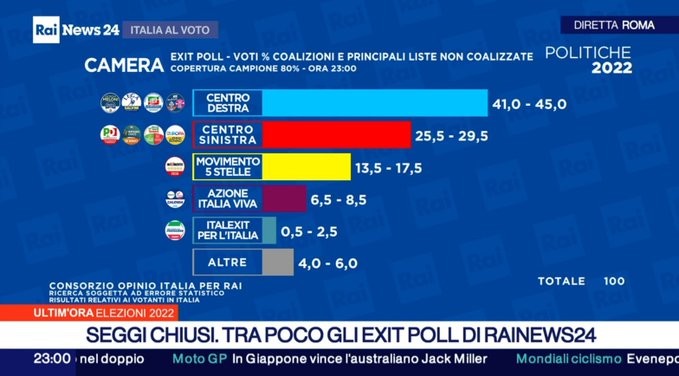 Melonijeva je bila ob razglasitvi rezultatov in svojem prvem nagovoru jasna: "Če smo poklicani, da vodimo to državo, bomo to počeli za vse Italijane." Napovedala je še, da bodo delovali s poudarkom na tem, kar ljudi združuje, in ne na tem, kar jih deli.