Piše: Vida Kocjan
Socialni demokrati (SD) so najbolj zadolžena parlamentarna stranka, leto 2020 so končali z 856.602,73 evra primanjkljaja. Računov ne poravnavajo, podjetja so že več let primorana dolg spreminjati v prisilno financiranje stranke SD.
Stranka SD je imela  ob koncu lanskega leta 438.183,20 evra dolgoročnih finančnih obveznosti (posojil) in skupno 141.352,14 evra neplačanih poslovnih obveznosti. Skupaj je bilo to 579.535,34 evra finančnih obveznosti ob koncu leta 2020. Za obresti so lani plačali 26.062,04 evra.
Dolgoročno posojilo imajo najeto pri Delavski hranilnici, kredit so v letu 2020 reprogramirali, poplačali so le manjši znesek in limit. Poleg kredita imajo med dolgoročnimi poslovnimi obveznostmi knjižene obveznosti tudi za leasing, za najet avtomobil (stanje ob koncu leta 2020 je bilo 12.744,15 evra).
Ob tem je imela stranka vsega 369.353,41 evra sredstev, v to so vštete vse nepremičnine, tudi stavba centrale v Ljubljani, in 69.772,91 evra denarnih sredstev na bančnih računih.
Kot zanimivost dodajmo, da so leta 2020 s članarinami članov zbrali vsega 101.401,28 evra, podoben znesek je bil tudi v letu 2019. S prispevki članov so zbrali še 31.161,34 evra. To pomeni skupno okoli 132 tisoč evrov. Iz bilance je še razvidno, da so lani iz najemnin za prostore, ki so jih podedovali od Zveze komunistov Slovenije in jih po Sloveniji kot svoje premoženje oddajajo v najem, prejeli 56.953,13 evra. Kljub temu pa je vse skupaj daleč od tega, da bi v stranki lahko tekoče poravnavali svoje obveznosti
Bilanca stanja, objavljena v bazi Ajpes, tako pokaže, da so bili viri stranke SD v letu 2020 negativni (v znesku 210.181,93 evra). Negativen rezultat oziroma primanjkljaj pa se vleče že več let.
Če to prenesemo na polje poslovanja gospodarskih družb, to pomeni, da ima stranka negativen kapital, ki traja že več let, podjetje bi bilo zrelo za stečaj, pred tem pa že zdavnaj za prisilno poravnavo.
Zato se tudi pri stranki SD postavlja vprašanje, ali ni tudi ta stranka zrela za stečaj, saj očitno ne zna upravljati s svojimi viri in ne zna poslovati. Še več. Računsko sodišče je v preteklosti že opozorilo na spornost, da gre stranka na volitve, posebno še, če ima dolgove iz prejšnjih volitev.
In prav to se dogaja v stranki SD.
Iz javno objavljenih bilančnih podatkov je namreč razvidno, da stranka SD svoje dolgove znižuje tako, da več let ne plačuje računov za svoje storitve, s čimer se dolg do podjetij, katerim v SD ne plačajo računov, spremeni v prisilno financiranje stranke. Podjetja pa stranke SD očitno ne tožijo za plačilo neplačanih računov, kar je še dodatno sporno.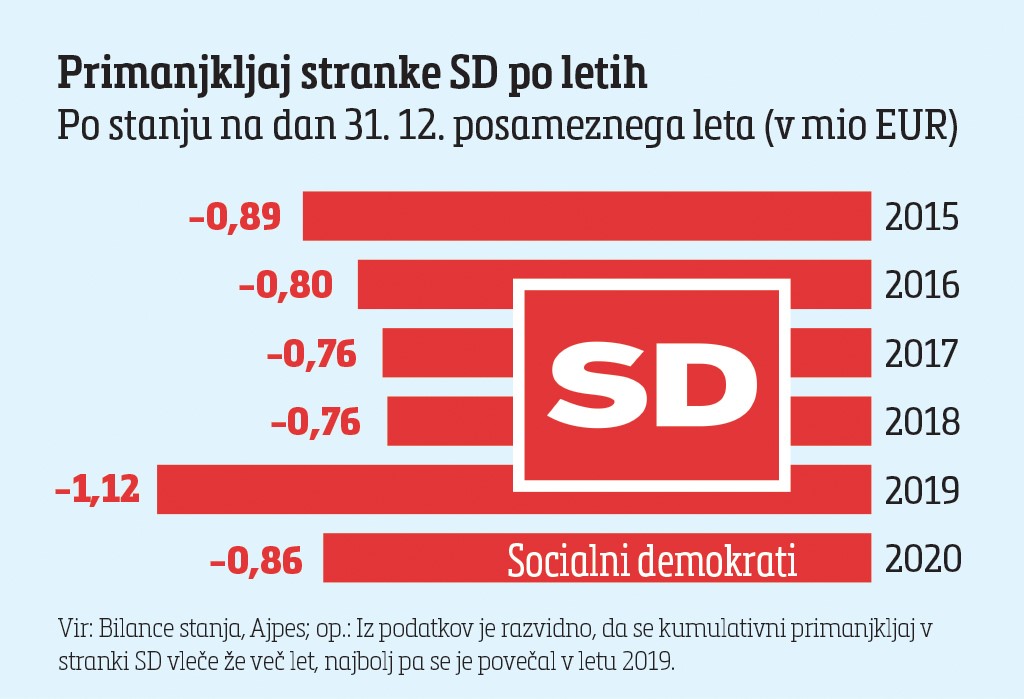 Zaradi vsega tega med pravnimi strokovnjaki prevladuje mnenje, da Socialni demokrati kot politična stranka sploh ne bi smeli kandidirati na volitvah, dokler ne poravnajo dolgov iz zadnjih državnozborskih volitev.