Piše: C. R., STA
Požar pod Socerbom je v večji meri pod nadzorom in se ne širi več, je popoldne dejal Jan Brodar iz koprske gasilske brigade. Popoldne je ogenj gasilo približno 150 ljudi ob pomoči sedmih helikopterjev in dveh kanaderjev. Ti dve letali je Italija kljub sprva drugačnim napovedim vendarle usmerila na to območje.
Vodja operative na Gasilski brigadi Koper Jan Brodar optimistično pričakuje noč. "Še naprej pa bomo izdatno zalivali meje požara, da se nam ne bi kje ponovil," je poudaril. Dodal je, da se še pojavljajo manjša žarišča, ki pa jih uspešno nadzorujejo. Upa, da bo tako ostalo tudi naprej.
Burja je popoldne nekoliko popustila, a se ni povsem umirila. "Še tako majhno žarišče pa se lahko ob pomoči burje v zelo kratkem času razvije v resen požar," je posvaril.
Danes je bilo po Brodarjevih podatkih na terenu v boju z ognjem približno 150 ljudi. To so bili pretežno gasilci iz severnoprimorske regije, poleg njih pa še pripadniki vojske in drugih služb. V zraku so bili trije helikopterji Slovenske vojske, dva helikopterja policije, letalo Slovenske vojske, dva italijanska helikopterja in dva italijanska kanaderja, je naštel.
Opoldne so sicer iz štaba civilne zaščite sporočili, da je italijanski kanader danes lahko odvrgel samo en tovor vode, potem pa je moral odleteti na jug Italije. Pričakovali so, da se ne bo vrnil. A sta pozneje na pomoč prišla dva kanaderja.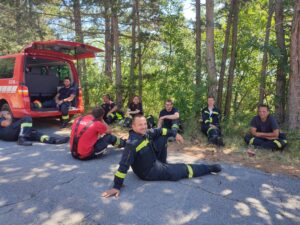 Primorski dnevnik poroča, da kanaderji danes niso uporabljali samo vode, ampak so v bližini Prebenega nad plamene spustili nad plamene tudi posebno peno rdeče barve za zaviranje požara.
Po podatkih uprave za zaščito in reševanje je bila za potrebe sanitetne podpore na požarišče poslana tudi sanitetna postaja vojske z nujnim reševalnim vozilom.
Brodar je opozoril tudi, da so gasilci na tako težavnem terenu, kot je pod Socerbom, izpostavljeni veliki nevarnosti poškodb, vlečenje cevi pa je zelo težko in naporno. Ponoči bo sedanjo ekipo zamenjalo približno 120 gasilcev iz notranjske regije.
Požar so danes gasili na dveh ločenih lokacijah – prva je bila na območju pod Socerbom na površini okoli 100 hektarov in druga na območju pod Tinjanom na površini okoli 10 hektarov, piše v dnevnem biltenu centra za obveščanje.