Nekdanji premier Kosova Ramuš Haradinaj in sedanji premier Severne Makedonije Zoran Zaev tesno sodelujeta, imata dogovor o kontroli poslov, pa tudi črne fonde iz katerih plačujeta bruseljske politike.
Primer Tomorja Morine, pripadnika OVK, aretiranega na podlagi srbskega naloga na severu Makedonije, je sprožil vprašanje odnosov med Prištino in Skopjem ter Haradinajem in Zaevom. Morina srbsko tožilstvo za vojne zločine, sumi, da je z devetimi drugimi osebami v obdobju od januarja do junija 1999 na območju Gjakove zlorabil in mučil več srbskih družin, in tudi moril. Morina je bila del enote, ki je delovala na operativnem območju Dukađini, torej na območju, ki ga je nadzoroval takratni poveljnik Ramush Haradinaj. Morine še niso izročili Srbiji in ne kaže, da bi se to lahko zgodilo.
Kot je Blic izvedel v prištinskih diplomatskih krogih, Haradinaj in Zaev tesno sodelujeta. Doslej se nista srečala samo v vlogi predsednika vlade, ampak sta se na določenih srečanjih srečala tudi njihova brata – Vice Zaev in Daut Haradinaj.- Dogovorili so se, da bodo nadzirali podjetja, ki jih imajo v Makedoniji in na Kosovu – pravi vir Blica, prištinski diplomat. Vendar je šlo na relaciji Haradinaj – Zaev še naprej.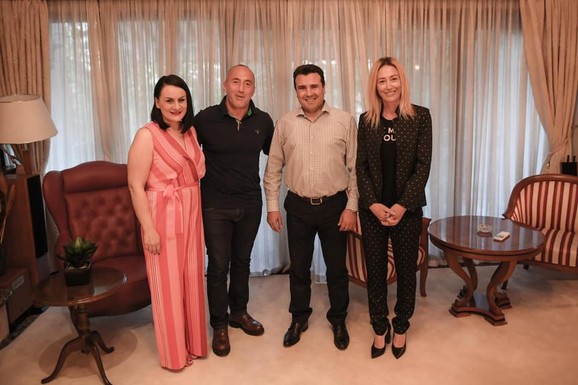 Nekdanji premier Kosova Ramuš Haradinaj (drugi z leve) in sedanji premier Severne Makedonije Zoran Zaev (tretji s leve) tesno sodelujeta. (Slika: Facebook)
»Medtem ko je bil Haradinaj premier, je bilo dogovorjeno, da se ustvarijo črni skladi, ki bodo služili plačilu politikov iz Bruslja, pa tudi Grčije, da bi na vse možne načine ublažili oviranje poti Severne Makedonije v EU in Nato. Vse to je pomembno za Albance, ki imajo del vlade v Skopju, Kosovo pa s tem plačuje tudi partnerja za svojo stvar«- pravi sogovornik Blica.
Več preberite na naslednji POVEZAVI.